Book Classes and Buy Books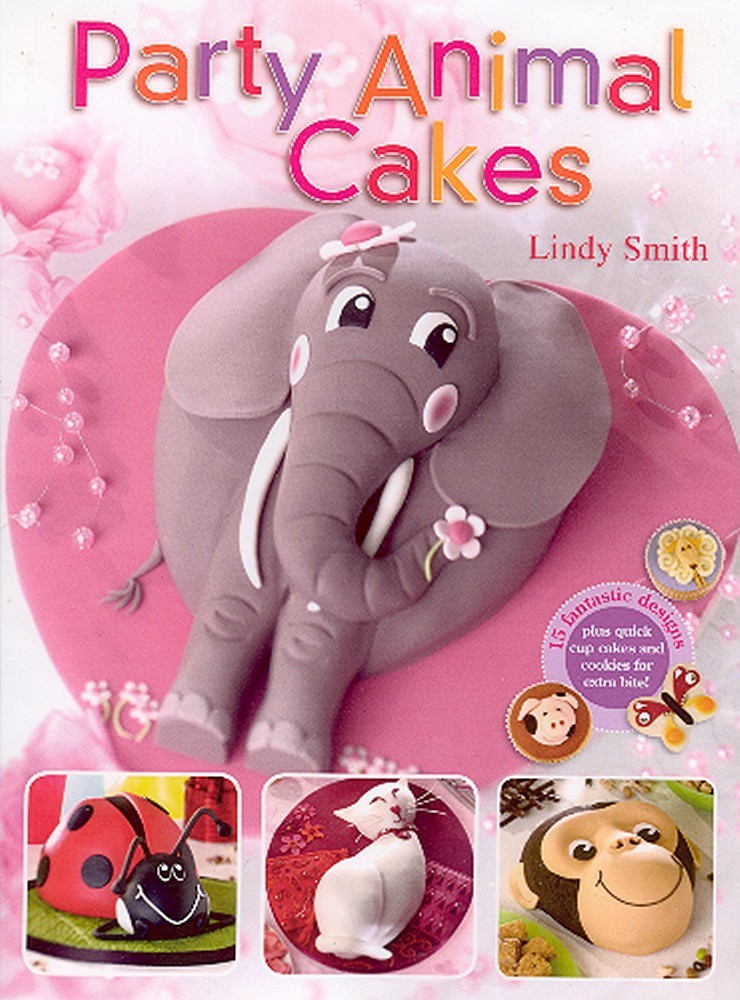 Party Animal Cakes book by Lindy Smith (Paperback)
SKU18234
Product Details
Lindy's popular style uses sugarpaste (fondant), buttercream and clever techniques to create the colours, textures, patterns and shapes that make animal cakes so much fun. Variation design ideas, quick-and-clever cupcakes, mini cakes and delicious cookies continue the theme for a choice of party food. Over 200 easy-to-follow, step-by-step photographs and instructions, plus clear carving templates, ensure animal cakes to make any party a roaring success!
Lindy Writes: "This is a cake book I've always wanted to write as the topic really appeals to me. The research has been fun; especially the necessary visits with my children to London Zoo and the Natural History museums in Tring, Hertfordshire and London. The animal world is full of surprises and however much you know there is always more that you don't. Did you know for example that the largest tigers live in Siberia, and a male African elephant can grow to almost 4m tall?
The first novelty cake I ever made was a large pink pig for my daughter Charlotte's second birthday, it didn't exactly turn out as I'd hoped, at that stage I still had a lot to learn, but she was thrilled. My children like many others are fascinated by the natural world so over the years I've had requests to make all kinds of animals from sharks and sailfishes to squirrels and butterflies. I really enjoy creating these cakes, as they almost seem to come alive and develop characters of their own whilst being made. Also, like us, animals are not 100% symmetrical so it doesn't therefore matter if say one ear is larger than another or if an eye is slightly lopsided, in fact it can add to the appeal of the cake!"
The Cakes: Prickly Visitor (Chocolate Hedgehog) - Spot On (Ladybird) - Fleecy Fun (Sheep) - Cheeky Chimp - Squeak with delight (white mouse)- Vamp it Up (bat) - Whale of a Time (Whale) - Roaring Success (tiger) - Tall Story (giraffe) - Take it Easy (Tortoise) - Pool Party (fish) - Purrfectly Exotic (Cat) - Top Dog (dog) - Flower Power (Elephant) - Farmyard Feast (Pigs tea party).
Paperback - first published March 2006
---
If you'd like Lindy to sign your copy please let us know by writing in the comment box at the checkout
---
Save this product for later