Sugarcraft and Cake Decorating Classes
Lindy's love of sharing her skills and expertise is never more on show than when she teaches. You can experience her amazing passion and extensive knowledge by booking a group cake decorating class, an individual or bespoke class or some party entertainment with a difference.
CLASSES FOR GROUPS
Teaching hands-on classes to groups of enthusiastic cake decorators is something that Lindy loves doing. She tailors her classes so that everyone benefits equally from the time they spend with her. Classes are fun, friendly and informative. Would your cake decorating group like to book Lindy?
CLASSES FOR INDIVIDUALS
Lindy teaches small group and bespoke classes to help you improve or learn new cake decorating skills. These cake decorating classes are usually held in Lindy's studio, high up in the beautiful South Shropshire Hills. There are no age limits so why not book a fun session for family or friends?
CLASSES AROUND THE WORLD
With a huge international following, Lindy is always happy to travel to wherever her fans are located. Over the years, she has taught in a range of countries, including Brazil, Australia and Israel. If you'd like Lindy to visit and teach in your corner of the globe, please contact us for more information and terms.
 "Your artistic talents are second to none, but you share and guide us all to try to do the same...you're like the cake decorating mummy of us all...nurturing us to try to do what you can. Not everyone has the same gentle guidance, artistic inspirations and ability to teach what you know... ❤" Tracey Marsh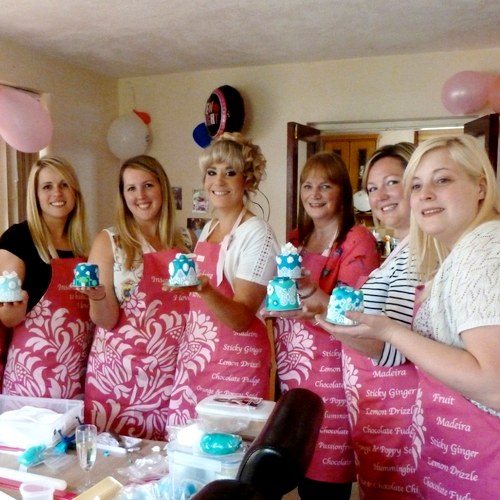 HEN PARTIES
If you are organising a hen party and your bride loves to bake, why not invite Lindy to add something special to your hen party with a fun group sugarcraft session. Lindy can tailor the activity to to ensure you all have lots of fun, whilst learning a few useful skills too.
ONLINE LEARNING
Bring Lindy's expertise and guidance into your very own kitchen by signing up and watching one of her online Craftsy cake decorating classes. You can learn at your own speed and in your own time. Visit Lindy's Craftsy Class page for more details.
CORPORATE TEAM BUILDING
With the popularity of competition baking, Lindy's sugarcrafting and teaching skills can provide an excellent theme for a corporate awayday or team building activity. If you're planning a conference or event, visit our Corporate page to find out more.
"Tell me and I'll forget, show me and I'll remember, involve me and I'll understand"
Chinese Proverb

FREE TUTORIALS
Lindy often includes free hints and tips in video tutorials as part of her blog posts. Click the button to visit our archive and start learning straight away. There is lots to discover...

DEMOS
Lindy loves to really inspire an audience. She finds that a demonstration or talk is often the perfect way to illustrate her craft and entertain at the same time. Interested in booking Lindy?