Shush…don't tell anyone…. but there are less than 4 weeks until Christmas! Now I love Christmas, I love the excitement of my young nieces and nephews, I'm very partial to a glass or two of spiced mulled wine and I adore the woody pine scent of a freshly cut and decorated Christmas tree. What I don't like is when Christmas starts too early!
Christmas in July!
Unfortunately Christmas for me this year started too soon, in July to be precise. I had a commission, to make the cookies that appear on the front of the November issue of Cake Decoration and Sugarcraft magazine. In publishing a deadline is a deadline.
Let me tell you,  it's a very bizarre feeling creating Christmas themed cookies when it's baking hot and the garden outside my studio is full of butterflies and beautifully scented flowers. It simply is not conducive to thinking about Christmas. By September I don't mind quite as much. Although I must admit to putting off creating the Christmas cake design for the December issue until the last moment possible!
Oh dear, some things are just not meant to be!
Who's noticed the current trend for deer? It was once owls, flamingos have been having a bit of a fling, but deer are definitely a top trend this season. You can see them on cards, wrapping paper, as ornaments, Christmas decorations, on mugs, on cushions, on men's ties and many other places. I'm lucky enough to live on top of a hill in rural south Shropshire, where I have the privilege of seeing these magnificent beasts quite regularly. I see them either galloping across the horizon backlit by the early morning sun, standing stock still watching me as I walk up the footpath or peacefully grazing completely unaware of my presence. I love this current trend and really wanted to turn what I often see into a Christmas cake design. How hard is that?
Well as it turns out, very hard. I spent a weekend grappling with ideas…deer…forest…snow… pops of red berries..but nothing gelled. I had a Christmas cake design on paper but my gut was telling me – NO – don't go with it, find another solution!
Rubber stamp leads to Christmas cake design solution
The solution started with a small rubber stamp I found on Pinterest. The inspiration for the stamp, however, goes back much further, in fact to 1865. On Christmas eve 1865 a young American clergyman called Phillips Brooks undertook a perilous journey on a horse from Jerusalem to Bethlehem, where he was to assist at the midnight service in the church of the nativity. A few years later he wrote the lyrics of what has become a well-known carol, for his Sunday school children. The carol in question starts with an 'O' and mentions the word 'Bethlehem'. I'm sure you know the carol I'm referring too.
I too have been to Bethlehem, although many years ago, so for me creating this Christmas cake design has been truly magical. As you can see below I've created a very colourful town, asleep under a starry nights sky. Colour is so important, it stimulates and energises us and in the dark days of winter, what better way to celebrate Christmas than with a beautifully colourful Christmas cake. A cake that reminds us of why we are celebrating.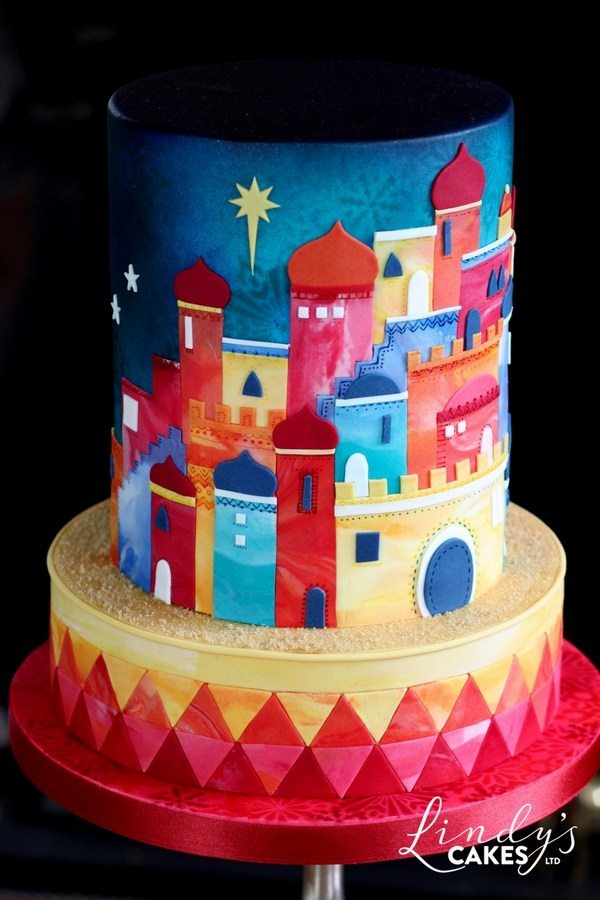 I hope my Christmas cake design inspires you to be creative this festive season. Instructions to make the cake are available in the December issue of the Cake decoration and sugarcraft magazine which you can buy as a digital download as well as a hard copy.
I'd love to know what you think of my Christmas cake design this year and also what you to are creating. Do let me know by leaving a comment in the box below.
Happy Christmas baking and decorating
Lindy Smith
'Bring world-class sugarcraft into your kitchen'