What is better than one cake? … two cakes of course! Double the gorgeousness and double the fun. Today we warmly welcomed Lindy's new class to our workshop collection… the elegant 'Tiered Celebration Cake'.
Stacking cakes can send one into a panic… visions of a Wonky cake when… ahem… it wasn't supposed to be that or the leaning tower of Pisa… ummm… it was never designed to be that either or that sinking feeling you get when your cake starts to errr… sink! Never fear Lindy is here and has designed a super class to guide you seamlessly through the decorating and stacking of your cakes. Step-by-step Lindy will take you through all the necessary techniques, with a whole lot of tips thrown in as well, to help you successfully pop one cake on top of another, avoiding all the aforementioned scenarios!
We welcomed five students to our class today and nearly all are familiar faces. It was lovely to see Catherine back. She could well win the prize for attending the most Lindy's workshops! She had exciting news to share of her daughter's engagement and was adding another set of sugarcraft techniques to her belt… just in case!
Oh no, wait… I think Tricia may be a contender for the prize as well! Tricia is a well know cake-friend of Lindy's Cakes as well and today she has excelled in the cake baking department. Tricia has baked a Lavender and Lemon Madeira cake that is so delicious and aromatic I fear we may fall into a Lavender induced slumber! The secret… Lavender sugar. I was so impressed by the flavour, I am off to the supermarket to buy some! Lavender cookies will be popped into my oven very soon…
There are some basic stages in this class but you do need to be comfortable with covering round cakes. Lindy asked the students to bring in covered boards in order to maximize the time spent. Time flies on a Lindy class so smart time management is smart sugarcrafting indeed!
Of course it wouldn't be a Lindy Smith cake without something unique and special so part of today's programme is adding a bit of bling to the cake! In fact a beaded cake fountain. The students start the day with preparing this to allow time for the glue to dry. Then it's time to move on to the cakes themselves. Beginning with the larger of the two cakes Lindy demonstrates the covering of this cake.
By lunchtime our cake students had covered everything and the beaded fountains are ready for shaping. After the break and  nourishing bite to eat they were ready to tackle the stacking.
It really isn't that hard when you have Lindy to guide you through each stage and Jane on hand to assist as well. Our students could breath a sigh of relief as their stacked cakes sat before them ready and waiting to be decorated. This is the fun bit and as you can see the ladies really showed their creative sides with prettiness everywhere.
Laura who joins us courtesy of her sister who gave her this class as an early Christmas gift, how fab, has been inspired by her daughters brightly coloured Lalaloopsy dolls. She is taking colour inspiration from them for her cake. Lindy will be really pleased about this. She always advises students that if they are struggling with colour choice then look for inspiration around you. Great idea Laura!
Victoria has no such issue because her husband has chosen the colours for her. It was great to see Victoria again having seen her just a fortnight ago on our Introduction to Celebration Cakes workshop… she says she is now addicted.. if I had a pound!!! Chiara has also done our Introduction class so has some great skills for covering her cakes, taught by Lindy of course!
Finally the 'piece de resistance' is the crowing glory on this pretty delicious cake… the beaded fountain. There you have it, a very elegant tiered celebration cake.
The ladies did so well today. There was a lot to take in and all were very keen that the finish of their cakes was professional.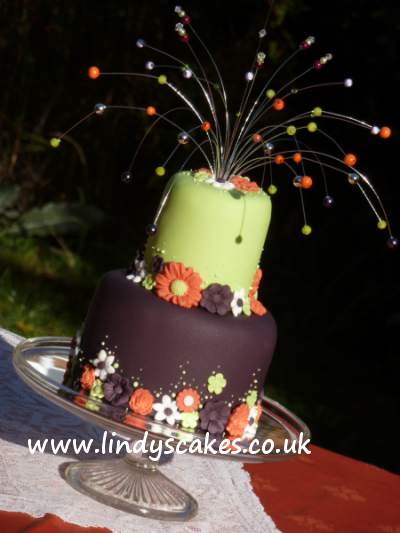 Here's a lovely Facebook comment from one of our students:
" Thank you Lindy and Team for a superb class. A year ago I was a complete novice and would never have thought I would have been able to produce such a beautiful cake. Must confess that I had not considered cake jewellery until this class but will certainly be using it in the future. I would thoroughly recommend this class to anyone who has already enjoyed the Introduction to Celebration Cakes workshop. See you again soon Ladies!" Tricia Oliver
Do let us know if you would like to see this class on our programme in the future and ladies let us know what you think of your creations. We think they are just lovely!
Join us
KiwiRachel